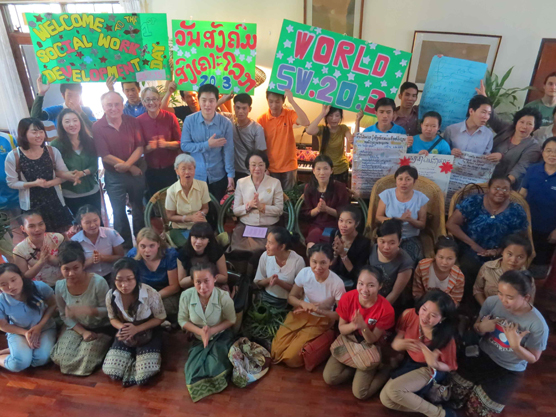 The third celebration  of  World Social Work  Day  was  held at  Mme Xuyen's home on  Saturday 23rd March 2013 . The informal    meeting gathered    about  58   participants      including  14 Lao    graduated  social workers of    (  7 from batch 1,  3 from batch  2 and   4  from batch 3 )    plus   21 international   professional guests from   Canada,  UK,  PNG,   and Laos  including    economists,   gender specialist ,  education  specialist ,   Korean social workers , a psychologist psychiatrist , Dr. Manivone , a  Lao  who was  trained in the USA for several years  was  the guest speaker of the day  .  Another very special guest was  the Minister   , Mme Khempheng Pholsena , the Head of National Commission for Mother and Children  under the Prime Minister 's office  who  was also   the speaker of   the  Event.  She came as    a  friend . The rest of  the 23   were  social work  students and   five   children  of Udomphone children development center  ,UCDC   who are under   CWS/GM scholarship and mentoring program  under   Xuyen's supervision.
The  party    was divided into two parts .  For the first part of the  morning the  students and    Lao social work graduates and  social work  students who are under  CWS/GM  scholarship  and mentoring program       worked on several  small fun projects / groups    from  7 :30 AM to 9:30  AM  including   : The first  group  helped making the banner and in- charge of the decoration  for the day . The second group made  a recycled  play house   for kindergarten .  Third  group made   paper bags and   talking books.  The  fourth group and the  most popular  group   wove  coconut hats ready for   the coming Laos New Year in  mid April  )  . The  fifth group  created  Lao poem   to   chant     for the World Social Work  Day . The last but not least    helped set up the  green papaya salad corner and   decorated the lunch  table  .
Then   at   9:30 to 10AM,   guests began to arrive and they toured the  several  activity corners . At 10AM, we gathered    in the  living room  to hear Mme Khempheng      talk with Lao social workers and  social work  students  on her  belief  about  how social workers can   help in child  development, children participation  through after school program . She thinks   Donkoi model is a good one in prevention of youth problems .  She also    mentioned  that   social workers  can also   help      with women issues   and anti- human trafficking  issues .
Then Mme  Xuyen  introduced     all social workers and social work students who are  doing volunteering work at  different Church World Service/ Global Minsitries 's child development centers , at  hospitals and  National  Rehabilitation Center .   Xuyen said   those social work  graduates  who are present today  are  among 250 social work  graduates of the past three years  of   National   University of Laos   started  in 2010   .  That was the first year  Laos  has   professional  trained  social workers  with a BA degree .
Xuyen  also introduced   other guests     with   the whole audience, like    Ms. Moon of  Good Neighbor a  Korean   international   NGO, is now working in     one district in   VTE province in   sponsorship  program.    Mr.   Youngdeok  Woo and  two  Korean guests , one is    social worker and  a volunteer  from " GREAT PEACE "  A another Korean    International  NGO   who hopes to open a Community Center  in Vientiane capital .
The two  economists are volunteers  at   Vientiane  Youth Health Center,  VYC  and other  centers with     Fund raising and    English lessons.
Dr. Phonedavane  from  National  Children Hospital   where many   social work  students  are doing volunteering with  the Psychosocial Services Program . Madame Rachel an active member of  Women International  Group  – WIG an active supporter of  Xuyen's program.
A  special  guest from  PNG and an education specialist ,  from the Philippines Ms. Luz  Rodriguez and  Ms. Ny the  gender specialist of Laos as well as  Mme Hien ,   a retired development worker after over 28 years  working with Mennonite Central  Committee, MCC,   another  supporter of   Xuyen's  projects .
Dr.    Manivone gave  an inspirational talk  with  Lao  social workers and  social work students.  She emphasized on  " What can each of us  do for  Lao country , not what Lao country can do for each of us" theme.  Dr. Manivone saw the  need  of    mental health education for Laos so she  is trying to help with  the national    strategy planning for mental health  issue  with the help of WHO and Ministry of Health .
This is probably the  first time my social work  students   have met a psychiatrist  in person  and listened to her talk as in their   social work and  development    course  at the National  University,   the mental  health subject has not been introduced .
Then there was a surprise after  Dr. Manivone 's talk   .  It was a special  mother who has  the courage to  introduce her daughter , 23 years old  , L. who has been suffered   with mental    health problem and  she  feels very lucky to have found  Dr. Manivone as  her daughter's   doctors/ counselor  as well as      a social worker , Xuyen ,  who  together  with Dr. Manivone  help   her daughter   in  team work .   L.    has been    treated  by many doctors before she met  Dr. Manivone and  Xuyen has been working with her on the Social service side   to help Dr. Manivone in the treatment    plan for the past    5 months  and    L's mother  sees  a  great improvement on    L.'s  behavior .
L. gave a surprise  performance of    'ROMANCE ' song  on the  piano to the whole audience .  It was her favorite piece that she learned  a long time  ago but  stopped for three years .  Now she   is  learning piano again for  the past  5 months  and was able to perform  well in front  of this group.
It was such an  appropriate   moment for   social worker and social work students to   listen and watch  a case  study  of  a mental   health issue,  a subject that   is very much needed  for  social workers in their daily social work  practice .  I think it was   the highlight  for the  World Social Work  Day of  this year in Lao PDR.
Thank you  so much   all the  participants  who made    this day a memorable one . I hope  the  World  Social Work Day will  continue to be remembered and celebrated  as it was  today.