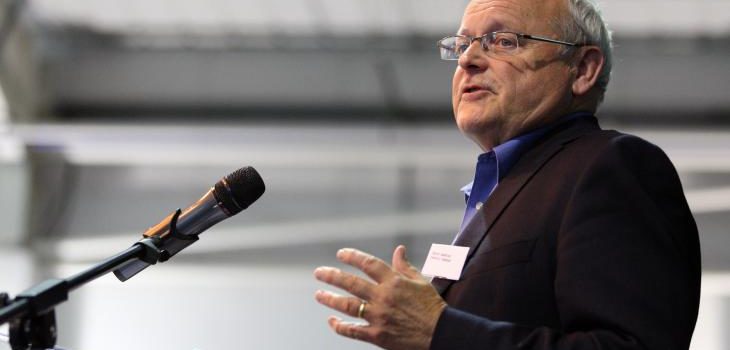 Worldwide tributes recognise international social worker Terry Bamford following his sudden death on Sunday
IFSW is deeply distressed to report the very sad news that Terry Bamford, who has been involved with IFSW since the early 1970s, passed away on the morning of Sunday 9 February 2020.  He suffered a very serious head injury after a fall when on holiday with his wife, Margaret, and never recovered consciousness.  He died with his family around him.  We extend our condolences to his wife, Margaret, children and grandchildren.
Terry qualified as a social worker in the 1960s and had a particular interest in mental health issues.  He was appointed to the full-time staff of the British Association of Social Workers in 1973 when he supported the Association's international work and links with IFSW, among other responsibilities.  He remained actively involved in international social work throughout his life.  He was awarded the Order of the British Empire (OBE) in 2000 for his service to the community.  Unlike many others who are promoted to senior management positions, Terry remained actively committed to social work professional organisations throughout his life.
Terry's service to IFSW included a four year period on the global Executive Committee as a Member at Large (under the old constitution), providing sound professional and personal advice to the Secretary Generals and Executive.  Terry was the Parliamentarian at several General Meetings, helping the President and the meeting to find their way through difficult debates and challenging issues whilst always remaining calm, good humoured and well-balanced.  Terry was always interested in the promotion of human rights and contributed actively to the development of this field within IFSW and BASW, including a long period as IFSW representative to Amnesty International.  In 2008 IFSW awarded him the Medal and Diploma in Memory of Andrew Mouravieff-Apostol in recognition of his distinguished service to international social work.
Terry was also a founder member of the Commonwealth Organisation for Social Work and a Board Member, making sure the social work voice was heard in the Commonwealth institutions and managing the formal business affairs of COSW.
True to his lifetime commitment to social work, at the time of his death Terry was in the final stages of co-editing a history of British social work which will be published in June 2020 at the launch of the BASW 50th anniversary year.  He had many previous publications and papers.
Terry was a professional social worker with broad vision, deep understanding of international dynamics, passionate commitment to social justice, and immense personal integrity.  He was an adviser to many and those of us who have the privilege to have had him as a friend and mentor will always value the lessons he passed on.  He was also really good company, always enjoying a glass of red wine or a malt whisky and frequently joking and laughing.
It is difficult to realise that he will no longer be on the end of a telephone always willing to give thoughtful advice, gentle guidance and personal encouragement.  He will be missed by the world of social work, by many active and former leaders of IFSW but of course especially by his family.  Our thoughts are with them.
The family has asked for privacy as they come to terms with his sudden and unexpected death.
They and we are grateful that we knew Terry, for his immense contribution to international social work, to human rights and to social justice and for making this a better world.
David N Jones
IFSW President 2006-2010
9 February 2020