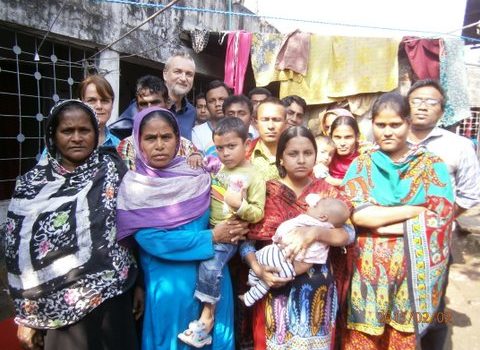 In 2013 on the 24th of April, 5000 workers went to work in a building they knew well – The Rana Plaza. Workers at that building spend 16 hours a day making clothes for the big brand retail stores that are sold in wealthy countries. On this day however their lives changed forever. The building collapsed killing more than 1100 people and leaving thousands of others injured and unable to work again.
Bangladesh is a poor country with very a limited social welfare system. It has no social insurances or benefits. The tragedy at Rana Plaza highlights the need for international trade laws that ensure workers safety, the need for social protections systems, – and it demonstrates the extreme super-exploitation of workers in low-income countries' by Western companies making super profits.
In the view of the survivors themselves the Rana Plaza experience demonstrates that when people are no longer able to work because of injury they are thrown away like unwanted rubbish and that the only people standing by them are voluntary social workers.
The Association of Social Workers, Bangladesh (ASWB) has been supporting the Rana Plaza workers, as well as workers from many other similar factory disasters caused by business practices that disregard the safety of the workers. At the approach of the second anniversary of the collapse ASWB invited Dr Rory Truell, Secretary-General of the International Federation of Social Worker (IFSW) to meet the men, women and children and to hear their stories so that other social workers throughout the world could be come more aware of the 'price of clothing'.
Kohinur Akter  said 'Before the building collapsed it rumbled. Some of us wanted to go outside but our manager said that we had to stay at our sewing machines because their was an important order' from Benetton. Ruby who had left the building was ordered back in because there was an important order for H&M.
As the building began to shake Shima who was on the 5th floor jumped from the window. She now has a broken back and lost the baby she had been pregnant with. Nazma was trapped and freed after half an hour but still today his wife is missing as some bodies of the workers were never recovered amongst the debris.
All survivors in the video suffered broken legs or backs or other extreme body traumas. Many have lost a family member and some more than one, such as the children that are now orphaned when both their parents died in the collapse.
Mr Repon Chowdhury, Secretary-General of ASWB explained that, 'Immediately after the collapse there was a lot of international attention and promises of support and compensation. Some received the equivalent of a months wages $30 for the loss of a spouse or for a broken back, but this amount only contributes to basis living costs and is gone in weeks', he said.
Because of the limitations of social protection in Bangladesh the workers only received basic initial medical care, subsequently bones are badly re-set creating difficulties walking and for general movement. For any ongoing medical care the now unemployed workers with no subsidies or benefits have to borrow money to attend to their medical needs. Their health and physical conditions prevent them from working and they are desperately worried about their futures.
Aleya whose body was contorted with pain, and tears running down her face thanked the social workers and international visitors from IFSW. 'You are the only ones that come. Everyone else has forgotten us', she said.
ASWB has been working at many levels to support these survivors and others who have fallen victim to the super-exploitation of Western companies:
At the macro-level social workers are advocating for the introduction of socially just trade, and for the workers to receive a fair percentage on the sale price of the clothing. The social workers have also been advocating with their government to employ factory inspectors to ensure that buildings are safe, and for the introduction working standards, and an adequate social protection system.
But these measures aren't helping the immediate families, so at the local level social workers have created a data base and recorded the conditions and needs of each survivor. This has helped legitimize the pain and suffering the survivors have experienced. The volunteer social workers have also arranged sponsorships that will enable the orphaned children to attend school at the cost of $25 per month. So far they have managed to generate three scholarships and are searching for more sponsors.
The social workers have also found donation funding for re-training packages enabling the people who can no longer sit for 16 hours at a sewing machine to learn new skills and enter new employment markets. Mr. Chowdhury from ASWB said, 'These are small initiatives but we also have no resources. It is very difficult for these families. Almost all of them come from other rural parts of Bangladesh and feel they can't return home because they now have debts. Therefore they lack the informal social nets of their traditional family and community structures. ASWB's impact can only reach a few but it gives them all some hope and they feel someone is listening. Our intent is to grow our scholarship base to assist more people. We also want to work with IFSW to bring international awareness and action on the need for Bangladesh to expand it's social protection programmes to include universal health care and insurances for unemployed and disabled'.
Dr Truell said that IFSW would highlight the situation of the Rana workers. 'It is impossible for people to work their way out of poverty with such gross exploration and disregard for life. What has happened at Rana is inhuman. A core principle of the profession is social equality and social justice. Social workers will act and take a stand on these principles in all their forums and all parts of the world. We will also do our part in calling on the clothing brand companies to take responsibility for the Rana workers and for all workers to receive an appropriate percentage on sales'.
Dr Truell also noted that social workers in Bangladesh also suffer extreme hardship. The starting wage for a social worker is $50 a month and the challenges both professionally and personally are eminence. 'This', he said, 'is a further tragedy – as it is only the social workers are left, standing by survivors of Rana, assisting and amplifying their voice in an environments where other want them silenced'.