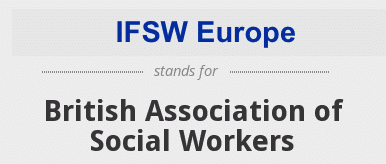 Today, the UK formally leaves the EU political structures. This reality has significant implications for social work and for people in UK, some of which are still unknown as negotiations continue over the coming years.
My colleagues in the British Association of Social Workers (BASW) are responding to these changes that will affect the social workers and the life of people in the UK.  There is no doubt that we will continue to work together.
On behalf of IFSW Europe I reinforce the message that the UK is leaving the EU but social workers are not leaving IFSW Europe.  Your contribution over the years to IFSW Europe is huge and greatly valued and no political changes will affect your position in IFSW.  I expect that we will still use English as our main language of communication!
Social workers in Europe are aware of the emotions and challenges you are experiencing and we know this will continue for a long time as the new arrangements are negotiated.  We offer all our support to overcome them.
And IFSW Europe will continue to benefit from the work and investment of all social workers from BASW and their participation in representation to the European institutions.
You are always part of IFSW Europe and we will always offer you a European professional home.
Ana RADULESCU
President of IFSW Europe