News item issued by Antonina Dashkina
13 years ago associations of social workers of Russia and Korea decided to have a platform for discussing social work issues in both countries, by meeting, comparing, taking ideas and advice from each other. It was agreed that we will have the format of Eurasia Forums.
All these years members of associations met every year – one year in South Korea, another – in Russia. In 2018 at the Eurasia Forum in Vladivostok (Russia) we discussed the topic «Building Bridges of Collaboration Between Generations: social work aspects». Usually we have big groups of social workers participating from both countries. It was last year in Russia when for the first time we had participants not only from Russia and Korea but also from China and Japan associations of social workers. The Forum was a success and the new idea was to have it in another country rather than Russia or Korea.
And PASWI – Philippine association of social workers – is hosting Eurasia Forum of social workers. The topic of the Eurasia Forum is "Poverty among young and elder people: social work approach in solving the problem".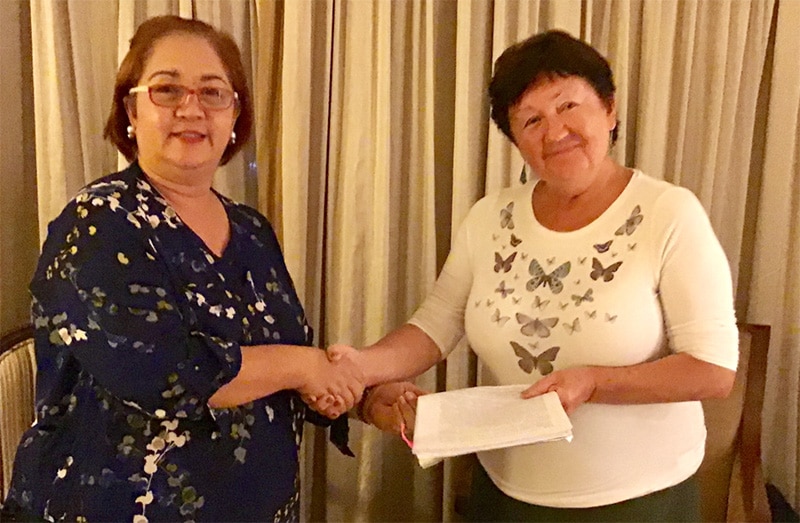 Eva Ponce de Leon (left) and Antonina Dashkina signing the memorandum of understanding
Eurasia Forum format is growing !!!!! It will take place 13-15 December 2019 in Puerta Princesa, Palawan, Philippines.
Participants are 30 social workers from Russia and members of associations of social workers from Korea, Japan, Vietnam and Philippine of course.