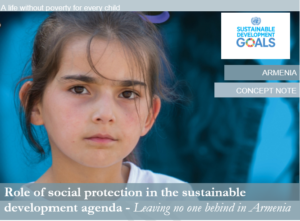 Armenian Association of Social Work – Conference "Role of social protection in the sustainable development agenda: Leaving no one behind in Armenia". 
The conference will be held Wednesday, October 31st through Friday, November 2nd. We know the notice is short, but your participation, presence, and perspective would make our conference all the richer.
The conference will acknowledge the key role of the social protection sector in sustainable development, and is organized by AASW in collaboration with UNICEF, the World Bank, and the Ministry of Labor and Social Affairs of the Republic of Armenia. Please see the attached concept for more details.
If you would like to attend and to present at our conference, please provide details about your proposed presentation through the linked presenter form. We would appreciate if you could please complete this form before September 30.