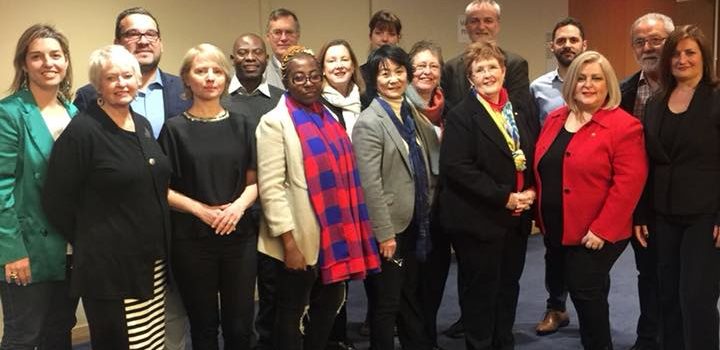 (Photo: Ana Lima in red with the IFSW Executive at the United Nations headquarters in New York 2018)
Ana Lima the IFSW European President has been appointed to the position of Secretary of State for Social Services in Spain. IFSW celebrates the news that a leading member of the Federation and the President of the Council of Spanish Council of Social Worker has been chosen to be the new Secretary of State for Social Services of Spain.
This is significant for social workers throughout the world as it highlights the impact and relevance of the profession to senior positions and decision.making processes in social services public policy. The appointment builds inspiration for all social workers demonstrating that through their day-by-day practice they can contribute to the construction of sustainable communities and a more just, democratic and human world. On behalf of all who are part of IFSW we congratulate Ana Lima and wish her every success in her administration.
IFSW Global President Silvana Martinez commented:
On behalf of the Federation, I convey my most honest and warmest congratulations to my colleague and friend Ana Lima. She deserves this role not only because of her professional and academic experience but also because of her demonstrated commitment to the profession and in realizing the dignity of all people. Ana has shown that she is a passionate, dedicated and skilled social worker who has improved and touched the lives of many people. Now she has the opportunity to uplift the wellbeing and bring great change to all the people of Spain. As a woman and as a social worker I am very proud of Ana and I have every confidence she will perform exceptionally well in her new role".
Ana Lima commenced her role as IFSW European President in 2016. Prior to this, she was an active member of the Federation and in 2014 received the Secretary-General's Award for Outstanding Social Work as a leader of the anti-austerity Spanish Orange Tide movement.
In addition, Ana Lima has extensive experience in the field of social services, with more than a decade leading the Spanish Council of Social Workers and more than 20 years of experience in the field.
Rory Truell, IFSW Secretary-General said, "We are excited and so proud of our colleague. Ana Lima's significant experience as a social work leader has been recognized by the Spanish government, and all of us in the Federation send her our biggest congratulations, love and hugs. We also commend the Spanish Government for appointing a social worker to this crucially important role. She will bring with her immense international social work experience that will result in significant strategic and policy contributions which will not only meet the needs of communities but also assist the social and economic development of Spain."