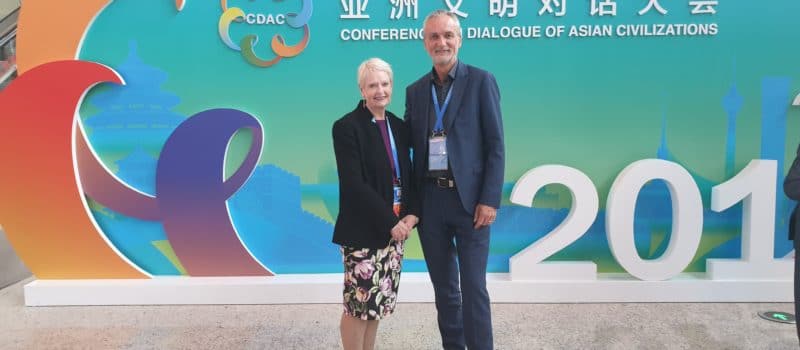 The Conference on Dialogue of Asia Civilizations hosted by Chinese President Xi Jinping in May brought together 47 country leaders and representatives to discuss cooperation between Asian countries and to develop a shared vision. IFSW representatives were also invited to contribute their expertise on heightening 'social development' as Asia expands its trade and markets globally.
At the conference, IFSW Secretary-General Rory Truell and IFSW Regional President for Asia-Pacific Rose Henderson stressed the importance of formally linking economic development with social development and the need for regional and global capacity-building strategies for countries and communities that have been economically and socially disadvantaged. A further key social work message was to involve civil society in the development of the regional vision and planning so that communities would be able to articulate their development aspirations.
Rory Truell and Rose Henderson commented, "It is not common for the social work profession to be invited to help shape such significant regional and global developments and we are delighted that the profession is gaining recognition at this level. It is a result of the significant social work outcomes evidenced throughout the world that have contributed to confident and strong communities and societies. IFSW will continue to advise and advocate at the global, regional and country levels for the integration of strategies that support sustainable co-existence, cooperation and equal rights".
While in Beijing, Rose Henderson and Rory Truell also meet with the Chinese Association of Social Workers who have been actively promoting and developing the profession throughout China. CASW is one of the fastest growing IFSW members. They have provided a report of their recent activities which can be read here: China Social Development Report(1). The significant outcomes led by the CASW was a major influence supporting the invitation for IFSW to participate in the Conference on Dialogue Of Asia Civilisations.
In the photo below Rose Henderson and Rory Truell (on the left) hear about CSAW activities from Vice-President Mr Lui (second on the right) and senior staff members at their Beijing offices: