(FAAPSS)
Argentina, Latin America & Caribbean
Provincia de Córdoba. Argentina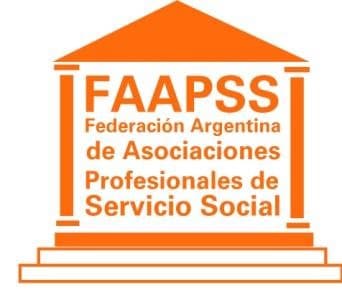 secretariafaapss@yahoo.com.ar
http://www.trabajosocialarg.org.ar
N/A
@faapsstrabajosocialargentina
Name of the President: Lic. Paola Quiroga
Number of members: 25.000
Year when the Association was established: 1981
Year when the Association joined IFSW: 1985
Code of Ethics FAAPSS
Constitution FAAPSS
La FAAPSS (Federación Argentina de Asociaciones Profesionales de Servicio Social) es la Organización de 2° grado que nuclea a Asociaciones, Colegios y Consejos de Profesionales de Servicio Social y Trabajo Social del país.
Son sus objetivos ejercer la defensa de las organizaciones miembros cuando se afecte su existencia, funcionamiento o autonomía; mantener coordinaciones permanentes con las distintas Federaciones y organismos que representen a los distintos estamentos del Trabajo Social Argentino; ejercer la defensa de las incumbencias profesionales; defender una política que contemple la vigencia de la democracia, las libertades públicas y el respeto integral a la dignidad de la persona; ejercer la representación de las organizaciones miembros en el orden nacional e internacional organizar y participar en Congresos, Jornadas, Seminarios y cualquier otra actividad de formación y capacitación profesional.
Organización Miembro de CGP (Confederación General de Profesionales dela República Argentina) y Comité Mercosur de Asociaciones Profesionales de Servicio Social.
Is it social Work a University degree?
How many years do you have to study?
Do you have to register to practice social work?