(IASW)
Ireland, Europe
St Andrews Resource Centre, 114-116 Pearse Street, Dublin 2, Ireland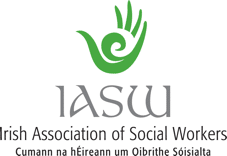 officemanager@iasw.ie
https://www.iasw.ie
00353 860 241 055
https://www.facebook.com/IrishAssociationofSocialWorkers/
_@IASW_IRL
Name of the President: Vivian Geirgan
Number of members: 1700
Year when the Association was established: 1971
Year when the Association joined IFSW:
Code of Ethics the Irish Association of Social Workers
Constitution the Irish Association of Social Workers
The Objectives of the Association are:
To improve the standards and quality of social work.
To provide support to social workers in the practice of their profession.
To represent the views of social workers on matters of social policy and practice at local, national and international level
To develop a sense of pride amongst social workers about the value of their profession.
To be advocates for the interests of social work clients at national level.
To promote awareness of the contribution of social work to society.
Is Social Work a University degree?
How many years do you have to study?
Do you have to register to practice social work?