(IASW)
Ireland, Europe
John Brennan
St. Andrews Resource Centre, 114-116 Pearse Street, Dublin 2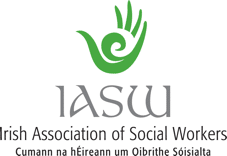 office@iasw.ie
https://www.iasw.ie
00353 (0)1 677 4838
https://www.facebook.com/IrishAssociationofSocialWorkers/
https://twitter.com/IASW_IRL
Name of the President: Mrs Aine McGuirk (Chair)
Number of members: 1207
Year when the Association was established: 1971
Year when the Association joined IFSW:
Code of Ethics the Irish Association of Social Workers
Constitution the Irish Association of Social Workers
The Irish Association of Social Workers is the national professional body for social workers in the Republic of Ireland. Member Benefits at a glance:
Fitness to Practise Legal Expenses Cover (ONLY available to Full Members, First Yr Post Qualify & Part-time). For further information on the coverage please see Fitness to Practise section on the website.
FREE CPD Folder, Resources and Support in Maintaining a CPD Portfolio. (Folder only available to Full Members, First Yr Post Qualify & Part-time members)
Exclusive Access to Job Advertisements
FREE Subscription to the "Irish Social Worker" Journal
Access Online to ALL Previous Editions of the "Irish Social Worker"
Professional Advice and Support from the IASW Office, Board & Council Representatives
Reduced Rates at Conferences, Lectures, Training & Other IASW Continuing Professional Development (CPD) Activities
Invitation to FREE CPD Events
Participation in Special Interest Groups & Committees
Input into National Standards, Policy and Legislation
Bi-monthly Communications Newsletter Containing Updates on IASW Activity, Briefings and Announcements of Upcoming CPD events
FREE Hosting on our Supervision Panel
Invitation to our Annual Conference & AGM
Is it social Work a University degree?
How many years do you have to study?
Do you have to register to practice social work?