(PASWI)
Philippines, Asia and Pacific
Mrs. Eva P. Ponce de Leon (Executive Director)
Room 210 Philippine Social Science Council, Commonwealth Avenue, Quezon City, 1121 Metro Manila, Philippines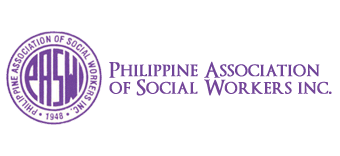 paswi_1948@yahoo.com
https://paswiconvention.wixsite.com/paswimembership1
(63 2) 453-8250
https://www.facebook.com/PASWI.National
Name of the President: Mr. Rosauro R. Luntayao
Number of members: Regular 6800
Year when the Association was established: 1948
Year when the Association joined IFSW:
Statutes Philippine Association of Social Workers
The Philippine Association of Social Workers (PASW) was founded on 12 November 1947, and incorporated on 18 April 1948.  It was re-incorporated with the Securities and Exchange Commission on 18 October 1988, changing its name to Philippine Association of Social Workers, Incorporated which is now famously known as PASWI.
 Vision. PASWI envisions a humane and just Filipino society that respects the dignity of the human person through the free and full exercise of her/his economic, social, political, and spiritual rights and responsibilities.
Mission. As a professional organization we commit ourselves to the following:
To strengthen professional competence of social workers;
To contribute to solutions to emerging social issues and trends;
To promote a sense of accountability and responsibility among its leaders and members; and
To strengthen solidarity among its members and key partners in local and global communities.
Services/Programs:
Conducts Continuing Professional Education
Assist distress vulnerable groups specially women and children in communities under danger in times of calamities;
Link and connect social workers in need of medical support to government agencies concern;
Lobby to legislative officials benefits of social workers
Is it social Work a University degree?
How many years do you have to study?
Do you have to register to practice social work?