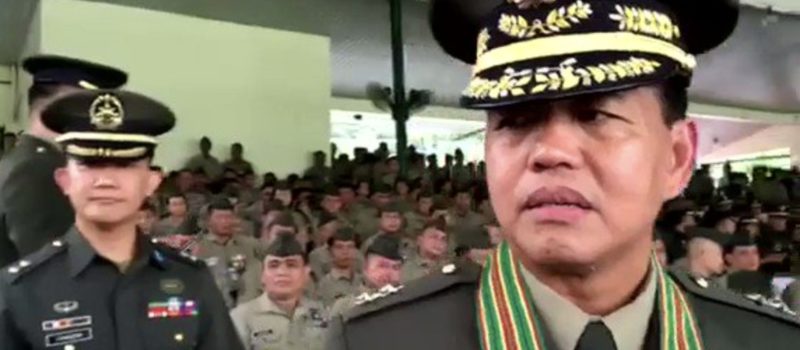 (photo: Philippine Army chief General Rolando Bautista now Secretary of Social Welfare)
A statement issued by Silvana Martinez, IFSW President, and Rory Truell, IFSW Secretary-General
11th October 2018
The International Federation of Social Workers supports the concerns raised by Philippine social workers on the appointment of Lt. Gen. Joselito Bautista as Secretary of the Department of Social Welfare and Development.
Lt. Gen. Bautista, a military leader in counter-terrorism, was appointed by the Philippian's President Rodrigo Duterte who among other statements against human rights has vowed to kill every drug dealer and user.
A statement from the Social Work Department at the University of the Philippines points out:
The Department of Social Welfare and Development (DSWD) is the national agency mandated "to develop, implement and coordinate social protection and poverty reduction solutions for and with the poor, vulnerable and disadvantaged". It is not in the business of counter-terrorism and warfare. To many impoverished and marginalized Filipino families and children, DSWD is a lifeline, a lifesaver, a source of opportunity and hope.
The appointment of military leaders to government services by authoritarian presidents is a textbook approach of fundamental conservatism. A methodology that systematically strips citizens of their rights, seeks to forcibly eliminate opposing voices and violently suppresses people who are vulnerable and communities representing different choices.
The growing trend of electing authoritarian presidents was also highlighted this week in the first round of voting that elevated the Brazilian Presidential Candidate Jair Bolsonaro who defends military dictatorships and the use of torture against opponents. Such cases are not isolated, and people throughout the world are expressing shock and dismay as authoritarian rule is returning as a new global political trend. In response, social work along with other movements for inclusive, equal and sustainable societies, need to maintain clarity on our roles and professional principles.
The breeding ground that leads to societies electing authoritarian politicians is marked by significant inequality, mass poverty, and generalized desperation. Such social contexts too often result in people giving up hope and transferring their own political power to a confident leader. The system of transfer of power from people to authoritarian leaders is reinforced by the weak systems of democracy that don't encourage a process of community engagement with people working together to plan their interdependent futures.
The social work profession is acutely aware that voting every four years in the secrecy of a private booth, without further involvement in the political process, is the feeblest form of democracy. It does not secure a process of political structures that are needed to engage people's involvement in their health, security, rights and future wellbeing.
Such a simple concept of democracy only asks people to say "yes" or "no" to a political future in which they are not engaged. Instead of interaction, people are subjected to manipulative political arguments that blame other races, communties or nations for their disadvantage and discomfort. The consequence is disengagement, disillusion and alienation from the structures that people need to be involved with.
Social workers expressing concern in the Philippines, Brazil and in many other countries facing similar dynamics is a key part in bringing awareness to the communities they serve on the need for active responses. Indeed, from the social work perspective, actively engaged communities is not only a mechanism for preventing authoritarian governments, it is also the antidote that can transform authoritarianism to real democracy, social harmony, peace and sustainability.
Throughout the world, social workers are championing the building of solidarity between people and facilitating systems that support the voices of all communities. We work with governments, presenting evidence on the benefits of building social-capital to achieve economic and social sustainability. We join the demonstrations and movements linking people together in the call for participatory democracy and the recognition of all people's rights. We speak together saying "no" to authoritarian governance of the people and "yes" to engaged democratic governance by the people.
Social workers, along with others stand for human dignity the political principle that that peace, security and economic and social sustainably can only be achieved when communities shed their passive role as citizens, and fulfil their potential as political actors jointly determining their interdependent futures.