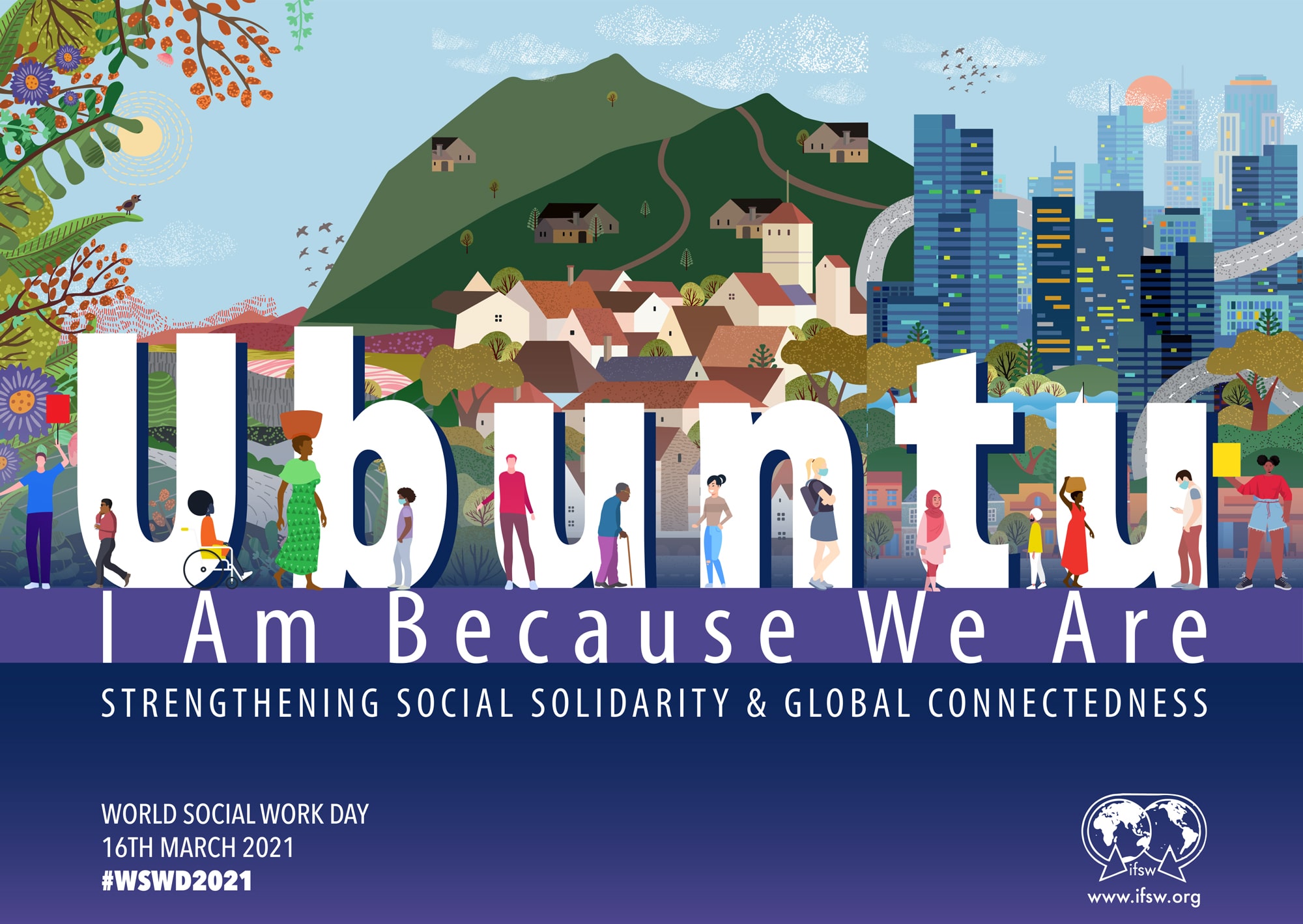 World Social Work Day is on the 16th March 2021. It is the key day in the year that social workers worldwide stand together to advance our common message globally. This year, the 2021 World Social Day highlights Ubuntu: I am Because We Are. This is the first theme of the 2020 to 2030 Global Agenda for Social Work and Social Development.
Ubuntu: I am Because We are – Strengthening Social Solidarity and Global Connectedness. Ubuntu: 'I am because we are' is a concept and philosophy that resonates with the social work perspective of the interconnectedness of all peoples and their environments. It speaks to the need for global solidarity and also highlights indigenous knowledge and wisdom. Silvana Martinez, IFSW President commented:
The theme comes from extensive consultation within IFSW and beyond. At a time when global politics has retreated into nationalism, Ubuntu is a powerful message on the need for solidarity at all levels: within communities, societies and globally. It is a message that all people are interconnected and that our future is dependent on recognizing all peoples involvement in co-building a sustainable, fair and socially just future. IFSW invites all social workers, partner organizations and people who care about the future to co-brand the poster. Together we can change world for this and future generations.
Interested in the history of World Social Work Day? Please click here
Cobranding the Poster: All social work partners and members are welcome to co-brand the #SWSD2021 poster by adding their logo alongside the IFSW logo. We also invite you to share with us your initiatives, events, and proposals to celebrate #WSWD2021. We will upload information about your planned event on this page and distribute them among social workers around the world.
Translating the Poster: We will publish your language translation for the World Work Day Poster. Please click below on 'Submit Translations'.
Download the poster in
Afrikaans, Albanian, Amharic, Arabic, Armenian, Aragones, Asturian, Basque, Bernese Germany, Bengali, Bodo, Bulgerian, Brunei, Cantonese, Catalan, Cherokee, Croatian, Czech, Danish, Dutch, Dutch, English, Estonian Farsi,, Fin, French, Galego, Georgian, German, Gujarati, Greek, Hebrew, Hindi, Hungarian, Hungarian, Icelandic, Indonesian, Irish, isiNdebele, isiXhosa, isiZulu, Italian, Ivrit, Japanese, Kalenjin, Kannada, Kannada2, Kikuyu, Kinyarwanda, Korean, Kurdish, Latvian, Luo, Luhya, Maasai, Macedonian, Malayan, Malaysian, Maltese, Mandarin, Māori, Marathi, Mongolian, Nepalese, Norwegian, Norwegian-Nynorsk, Oriya, Papiamento, Papiamento-Aruba, Philipino, Polish, Portuguese, Punjabi, Romanian, Romanisch, Russian, Sesotho, Setswana , Sepedi, Siswati, Shona, Sinhala (Sri Lanka), Somali, Spanish, Slovak, Slovenia, Suriname, Swedish, Swahili,  Tamil, Tatar, Telugu, Tshivenda, Thai, Turkish, Turkmenistan, Ukrainian, Urdu, Uzbek, Welsh, and more coming
[/tab] [/tabs]