Background and History
World Social Work Day takes place on 19 March 2024. This year's theme is 'Buen Vivir: Shared Future for Transformative Change', which is rooted in the Global Agenda and emphasises the need for social workers to adopt innovative, community-led approaches that are grounded in indigenous wisdom and harmonious coexistence with nature. Please click here to read more about the background of this theme.
As we approach #WSWD2024, this theme serves as a timely reminder of the transformative role social workers play in driving positive change and fostering communities that thrive on mutual respect and sustainability.
Joachim Mumba, IFSW President, commented: Buen Vivir resonates deeply with the core values of social work. As we celebrate World Social Work Day, let's embrace this principle and champion a future where communities and nature coexist in harmony a future where social workers will, together with local people co-design and co-build peaceful communities critical to our shared sustainable futures."
To learn more about the history of World Social Work Day, please click here.
Download, co-branding and translation
You may download the 2024 World Social Work Day poster by clicking one of the following buttons: English  Français  Español
For more translations and formats, please click below on 'Poster Translations' and 'Other Formats'.
Co-branding the Poster: All networks,  movements, and organisations that share the values of this poster are welcome to co-brand it by adding their logo alongside the IFSW logo. We also invite you to share with us your initiatives and plans for your #WSWD2024 event. We will upload information about your planned events on this page and distribute it among social workers around the world.
Translating the Poster: We will publish the translation of the World Work Day Poster into your language. Please click below on 'Submit Translations'.
We also invite member organisations to translate the poster into their own languages. Last year, the poster was translated into 100+ languages highlighting global professional unity and common action. We hope that most organisations will be able to translate the poster into their own language and send it to us to publish it on this page. If this is not possible, please copy the text below, write your translation line by line underneath, and email it to
:
Shared Future for Transformative Change
World Social Work Day
19th March 2024
Thank you all. IFSW will publish your translated poster on this page so that it can be shared across the world (please note that the relevant IFSW member organisation will be asked to approve the translation, which may take a few days).

Translations will be posted here once they become available
Please find below images adapted to Social Media as well as the Landscape format of the poster. These alternative formats are available in English, French and Spanish.

Social Media: English | Français| Español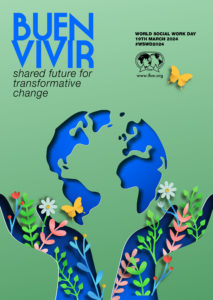 Landscape Poster: English| Français| Español

Social Media with partners (IASSW & ICSW): English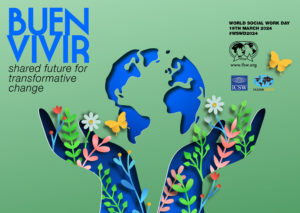 Poster with partners (IASSW & ICSW): English
Videos will be posted here once they become available

Information about events will be posted as they are shared by members.