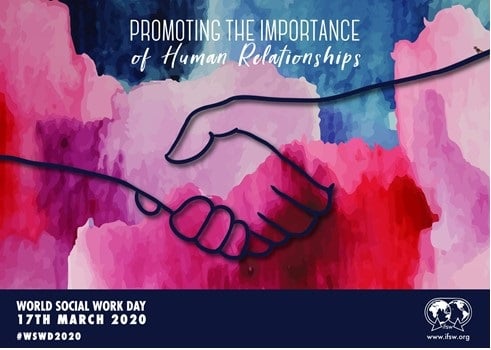 #WSWD2020 poster is presenting today!
On the 17th March 2020 we celebrate World Social Work Day!  A key day in the year when social workers worldwide stand together to advance our common message globally. Click here to download the poster
This year, the 2020 World Social Day highlights 'Promoting the Importance of Human Relationships'. This is the fourth and final theme of the 2010 to 2020 Global Agenda for Social Work and Social Development This theme was established to build international focus on the interdependence of people and the need for change in policies and social service delivery. Commenting on the theme IFSW Secretary-General, Rory Truell said:
"The integrated themes of the Global Agenda give voice and action for a sustainable world. A world underpinned by equality, where everyone has the skills to contribute to their environments for benefit of all and the planet. This theme highlights that co-determining relationships between people, communities, nations are essential in addressing the social, economic and ecological challenges. Drawing on the core skills of bringing people together to balance needs in celebrated diversity, social work has a significant and essential contribution to make in every society. Our task and mission at the time is to advance this message in our communities, in our workplaces and with our governments and shape a sustainable future."
All social work partners and members are welcome to co-brand the #SWSD2020 poster by adding their logo alongside the IFSW logo. We also invite them to share with us their initiatives, events, and proposals to celebrate #WSWD2020. We will upload them on the #WSWD2020 agenda (link) and distribute them among social workers around the world.
Last year, the WSWD poster was translated into 70 languages and dialects. We kindly invite all social worker colleages and friends to be another year part of this movement and help us to get 100 translations! Please write to
The themes for the next decade are currently under consultation. You are welcome to participate and share with us your vision of the future Global Agenda 2020-2030. (link). We will close the consultation process in the SWSD 2020: IFSW International Conference of Social Work in Calgary, Canada. Join us to share the future of Social Work!
To find out more click on the links to The Global Agenda and the history of World Social Work Day