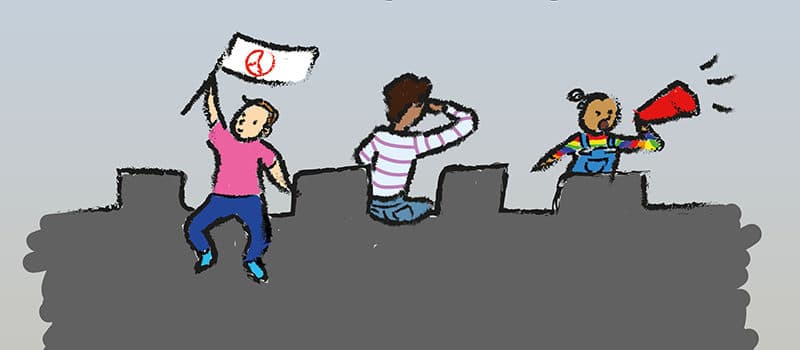 Youth and the Mystery Wall: Adolescent Trauma is now available in paperback form from www.centralbooks.com and other reputable online bookshops.  The book, by author and careleaver activist, Dr Phil Frampton, reframes adolescence. The review in the June edition of the British Association of Social Workers' magazine, Professional Social Worker can be seen here.
Frampton points to the now popularised notion that "it takes a whole village to raise a child" and argues that many people still fail to recognise that the children themselves are, through pro-active peer interaction, a key part of that process.
His 2004 childhood memoir, The Golly in the Cupboard, book detailed his time as a Mixed Race child growing up in orphanages. Frampton references passages in the book to illustrate how important a nurturing and educational role children play in each other's upbringings. He stresses that this role is even more important during adolescence, when young people combine to collectively enjoy and make more of the world they live in.
"Frampton challenges us to grapple with the social construction of adolescence or preferably to deconstruct it and be brave enough to take hold of a new vision. As a social work academic, I consider this essential reading for our students but also for those engaged in all disciplines that involve working with young people." Nushra Mansuri, Assistant Professor in Social Work, Coventry University
Frampton calls for a recognition of the importance of collective empowerment in teenage development. This process, he writes, has been dangerously eaten into by societal attempts to a) atomise children which results in them being controlled and isolated, b) digitalise childhood in order to facilitate the marketisation of education and c) the infantilisation of adolescence in order to undercut the working conditions of young 'adults'.
One major consequence of this three-pronged attack on young people, he contends, is intensified and growing incidences of teenage trauma. This feeds through into mental health and other issues later in life. Another is the reduction of young people's rights; not only their civic rights but also, in regard to young adults, their right to reasonable wage levels. Currently most young people's incomes are insufficient to raise a family in secure conditions.  He points to the full emancipation of young people as the only way that their voices will count at society's negotiating tables and enable them to resist such damaging and oppressive measures.
Youth and the Mystery Wall by Dr Phil Frampton
ISBN: 978-3-906820-27-9
Recommend Retail Price: £14.95
Publisher: International Federation of Social Workers
For further information, contact:
Phil Frampton +44 (0)7901338700
or see www.philframpton.co.uk