(CTPS)
Peru, Latin America & Caribbean
Jenny Maria Linares Vera
Santana Street Mz K Lt. 3, Las Brisas, Lima / y/o Los Azahares Street Mz K Lt. 3, Las Brisas, Lima. Peru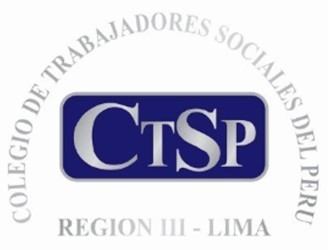 ctspllllima@yahoo.com
http://www.ctsplima.org.pe
+511-6476605 || Celular+51-948175596
https://www.facebook.com/ctsp.lima
Name of the President: Mag. Jenny Marìa Linares Vera
Number of members:
Year when the Association was established:
Year when the Association joined IFSW:
Código de Ética Peru
Constitutions – Acta de Constitución Asociación Peru
El Colegio de Trabajadores Sociales del Perú Región III Lima es una Institución gremial Autónoma de Derecho Público Interno sin fines de lucro, tiene personería jurídica y es representativo de los Profesionales Asistentes Sociales y Trabajadores Sociales del Perú.
 Otorgar Número de registro y habilitación profesional.
Ejercer la Representación gremial y defensa del ejercicio legal de la profesión.
Velar y garantizar que el ejercicio profesional se realice de acuerdo al código de ética, sancionar a los infractores.
Apoyar el perfeccionamiento, promover la investigación, colaborar con el sistema educativo e instituciones científicas y técnicas.
Mantener vinculación con  entidades científicas del país y del extranjero.
Gratuidad total en capacitaciones y eventos nacionales e internacionales.
Incentivo del fondo de fallecimiento,  becas y pasantías nacionales e internacionales para congreso
Is it social Work a University degree?
How many years do you have to study?
Do you have to register to practice social work?