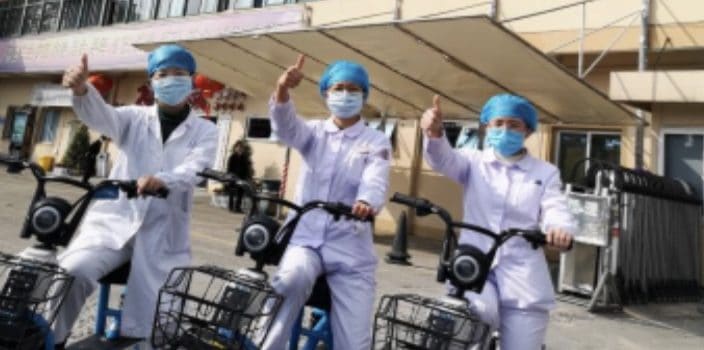 IFSW member The Chinese Association of Social Workers has been actively engaged in the fight against the coronavirus. Their International Officer, Yang Aibing correspond with IFSW saying:
As soon as the outbreak of the coronavirus epidemic was announced, CASW started a series of actions, for example, we released "the National Social Workers proposal" to call on social workers for personal protection, and fulfilling the mission of the industry to support the prevention and control of the epidemic.

CASW also published "The Social Worker Support Manual on the Prevention and Control of Pneumonia Caused by the Coronavirus Infection", which proposes the basic working principles and methods to social workers during the prevention and control period. Meanwhile, CASW has launched an online training course to "Fight Against the Epidemic based on the Community — Series of Social Work Courses", to provide professional guidance and psychological support for social workers to effectively participate in the prevention and control of the virus. Since the outbreak, CASW has been working closely with member organizations to launch online "Mental Health Assistance Campaign Against New Coronary Pneumonia" to provide online psychological counselling to the public who are impacted.

The CASW branches in provinces have also actively guided local social workers to participate in the prevention and control of the coronavirus epidemic and launching their own guidelines on the prevention and control of the epidemic. At present, the main ways for social workers to participate in epidemic prevention and control are online psychological counselling, offline community screening and education.

Wuhan Association of Social Workers recruited social workers to provide volunteer services and medical staff to provide psychological counselling and relief services, community workers psychosocial support and backup support services such as home quarantine. Wuhan has also established the "2 + 3" online community anti-virus mode, which means 2 professional workers (1 social worker, 1 community worker) + 3 volunteers (medical worker, psychological worker, assistant), working with mobile internet tools to help local governments to implement "home from home" home screening and early intervention;

Shanghai Social Workers Association launched the "Epidemic Fighting – Shanghai Social Workers' Service Group", Guangzhou Social Workers Association launched "Guangzhou Social Workers' Cotton Sponge Guard Hotline", they are providing community residents with advisory services on new pneumonia prevention knowledge and epidemic prevention and control policies; also providing online counselling and support services for confirmed or suspected patients, such as psychological assistance, emotional support and medical assistance; providing epidemic prevention assistance, life assistance and other support services to vulnerable and disadvantaged groups in the community; collecting and sorting out real and feasible epidemic prevention and control knowledge and information; providing relevant information counselling services for community residents, and online services such as information counselling, knowledge promotion, psychological counselling and emotional counselling for residents in psychological panic and pressure.

Chengdu social workers are going door to door in the community to check the epidemic, coordinating medical supplies, etc.  We list here the activities of only a few major provinces. In fact, social workers in every province are actively involved, because this is one thing that concerns all of us. We believe that everyone's efforts are the greatest support for prevention and to contain the spread of the epidemic. We hope we can overcome this difficulty as soon as we could.
IFSW Asia-Pacific Regional President Rose Henderson commented, "I congratulate the CASW taking such a positive and constructive leadership in responding to this crisis.  Further, I am sure that the guiding documents, training and response work CASW have developed would be very valuable to share with social work colleagues regionally and globally as the virus spreads across borders. I encourage CASW and other colleagues across our region also now involved in responding to this virus to continue to share your wisdom and resources as we collectively work with the increasing prevalence of this illness.  I commend the work of social workers in China and acknowledge the huge challenges of being both impacted personally at the same time as you are responding to the needs of your communities."
Rory Truell, IFSW Secretary-General added, "The profession of social work has been an essential pillar in the prevention of the spread of diseases. Records dating back from the Victorian slums in England and the USA, through to current examples, show that the profession has successfully worked with virus control throughout the world. The fight against HIV/AIDS, SARS and Ebola have all needed more than a medical response and the social work role in providing community education, support, information and reducing panic have been key factors in the control or elimination of diseases resulting in saving millions of lives. The lessons being learnt in China today highlight the need for every government to build and strengthen social work services. Communities supported with knowledge and information on how to act is essential for our futures."
CASW has asked for international support by sending Personal Protective Equipment (PPE), particularly masks, sanitizers and handwashing gels. To send these items directly to the Chinese Association of Social Workers, Room 906, Zhongcai building, No. 48, Guang'anmen South Street, Xicheng District, Beijing 100054, China.