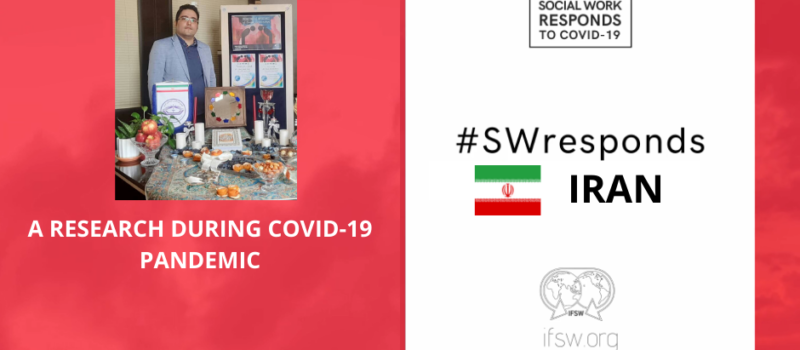 Research leaded by Iran Association of Social Workers board member, suggested women and young adults feel more anxious during COVID-19 outbreak
The consequences of pandemics such as COVID-19 are not only medical but also far more psychological, social and economic. The World Health Organization (WHO) recently released a document on psychosocial considerations during the outbreak of COVID-19 highlighting the importance of addressing psychosocial issues, including anxiety. However, unfortunately the focus of the media and the health system in general is on the ramification of epidemics, and mental health problems that co-occur with diseases are largely ignored.
Therefore, conducting research that clarifies the importance of the issue can help seek advocacy and share awareness among decision makers and the public. One of these studies has been carried out by Amir Moghanibashi-Masourieh, a member of the board of directors of Iran Association of Social Workers. The research, published in the peer-reviewed scientific "Asian Journal of Psychiatry", was aimed to assess the level of anxiety in Iran's general population during the outbreak of the coronavirus. The methodology was online survey with the participation of 10,754 people from 31 provinces of Iran for 10 days during COVID-19 outbreak.
The most important findings of this study are as below:
Women and young adults significantly feel more anxiety about COVID-19
Anxiety among residents of provinces with a high prevalence of coronavirus infection is higher
The severity of anxiety symptoms in approximately ten percent of cases is very high
The level of anxiety is significantly higher among people with at least one family member, relative, or friend with COVID-19 disease
The more people followed coronavirus news, the more the level and severity of their anxiety symptoms increased
Another result indicated anxiety rate was significantly higher among 21-40 age group, which seems to be due to concerns about economic consequences because the group is an active force in the society and unemployment, inflation and business closures mostly affect the group.
In addition, the study addresses some of the challenges faced by organizations and professionals providing psychosocial services, including social workers including there is no sufficient workforce of psychosocial professionals who has already been trained for critical situations; there is a lack of coordination and co-operation among psychosocial service providers, and also the operation process is now being carried out that individuals requiring counseling services call the hotlines, while especially for those with a COVID-19 infected person, experts should reach out the target groups and provide health care interventions. Also, low and middle income countries face challenges in providing online mental health services such as lack of access to disadvantaged classes and ambiguity in the usefulness of online interventions due to the lack of research conducted to confirm these services.
Finally, the study emphasized on adopting a package of psychosocial interventions by health care system to reduce the anxiety of high risk groups.
To access the full text, please click on the below link:
https://www.sciencedirect.com/science/article/pii/S1876201820301878