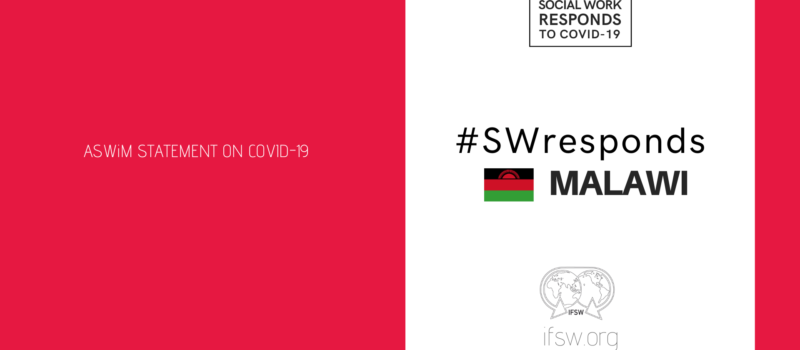 The Association of Social Workers in Malawi (ASWiM) is a registered membership-based organisation aimed at improving the delivery of social welfare services to vulnerable and disadvantaged groups of people. ASWiM has chapters in the northern, central, eastern and southern regions of Malawi with membership throughout the country, working in both rural and urban areas.
ASWiM is concerned with the upsurge of COVID-19, and would like to highlight the essential role Social Workers can play in the fight against the spread of Corona Virus and in mitigating the impact on the individuals, families and . Social workers can play an essential frontline role in the fight against the spread of the virus by supporting the affected to protect themselves and those around through social distancing and help them to access the needed services.
COVID-19 brings with it social, economic and physical sufferings such as feelings of panic, fear, shock, grief, loss of income, food insecurity, family disruption;  interruption in schooling including access to health care. ASWiM is therefore calling on its members to continue to avail themselves to provide essential services to those affected by the pandemic.
Key interventions by social workers in this crisis include:
Providing mental health and psychosocial support, counselling and rehabilitation support to children and families impacted by COVID-19 including those facing abuse, domestic violence and discrimination.;
Disseminating factual information about coronavirus to dispel misconceptions and fears;
Ensuring that children affected by COVID-2019 have access to adequate alternative care arrangements as well as deliver protection services for children left without a care provider, due to the hospitalization or death of the parent or care provider;
Facilitating referrals to other organizations and agencies for specialized Mental health and psychosocial support (MHPSS), Child protection (CP) and Gender-based violence (GBV) services and other basic needs;
Carrying out case management with those suspected and/or confirmed to be affected to prevent further spreading the virus.
As a response strategy, ASWiM will closely work with the of Population Planning and Social Welfare and other related ministries/department and partner organisations to ensure continuity of social services to the vulnerable population groups such as children, the elderly, disabled, single parents among others. ASWiM would be able to identify social workers or volunteers to constitute the response team at all levels. To this effect, ASWiM requests for support of Personal Protective Equipment (PPE) such as masks, sanitizers and handing washing gel/soap to enable social workers effectively participate in the prevention and control of the virus. The items may be channelled through ASWiM Secretariat on: 0999 44 35 80 or 0994 58 75 86 or email: .
In dealing with the COVID-19 crisis, ASWiM would like to advise all social workers to observe and exercise self-care to protect themselves by among other things:
Making reasonable judgements as to whether their participation in a particular intervention will put them at risk or not;
If possible, attempt to provide the needed service and information on what to be done to both the victims and those close to them by remote while promoting social distancing;
Follow prescribe practice guidelines and protocols when dealing with affected individuals, families and communities; and
Stay connected with colleagues and support systems that are responding to this crisis.
ASWiM has released this Statement for consideration by the government of Malawi (Ministry of Population Planning and Social Welfare and the Ministerial Committee on COVID-19) of the need to  actively involve social workers in the efforts to prevent and contain further spread of the virus.
WE BELIEVE THAT TOGETHER WE CAN OVERCOME THIS CHALLENGE.
GOD BLESS
Felix Kakowa – ASWiM Interim President
Willard Manjolo –  ASWiM Board Chairman