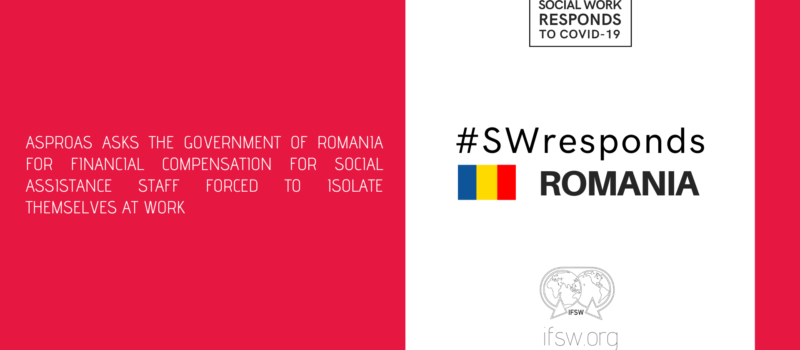 #SWreponds
The Association of Social Assistants of Romania (ASproAS) asks the Ministry of Labor and Social Protection and the Government of Romania FINANCIAL COMPENSATIONS for the social assistance staff obliged to be isolated at the workplace.
Our request covers ALL social centers in which the personnel were forced to isolate themselves at the workplace, from public or private providers.
As the budgets of the social centers cannot afford to cover these compensations, we request that they be covered from the state budget.
Based on the MILITARY ORDINANCE no. 8 of April 9, 2020 on measures to prevent the spread of COVID-19, social workers and employees of the centers were forced to go into isolation at the workplace .
In reality, the staff of social centers have to isolate themselves for 42 days in order to carry out these shifts safely.
The measure imposed by ordinance does not distinguish between the staff of social centers that are in the risk group or who care for other people in the family.
The problems that the staff of the social centers faced in order to enter 14 days of isolation
Individuals who isolated themselves at work separated from their family, in many cases from children under the age of 10 and left behind dependents on their care.
The isolation was in fact including the period before the shift, the period of isolation at work and the period after the 14-day shift.
The problems they faced during their isolation
Recent research has shown that the isolation of negative effects related to mental health: increased depression, anxiety, stress. Many of the isolated people also have medical problems and are in risk groups. The lack of exceptions made some of the staff employed in social centers at risk.
As a result, ASproAS is requesting financial compensation for social assistance staff forced to be isolated at work.