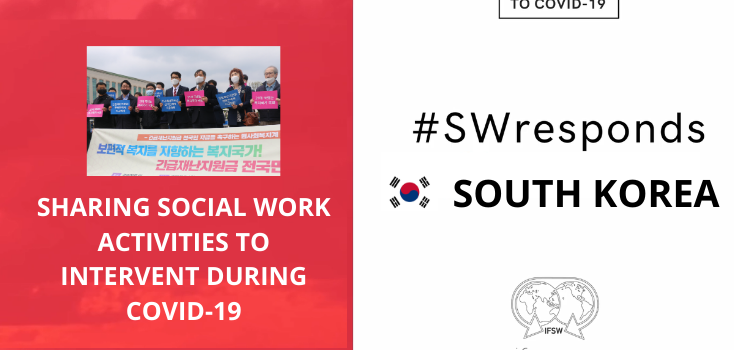 Seoul, Republic of Korea.                                                                                                                                                                                                  12th of May 2020
We would like to share the activities of the Korean social work related to Covid-19, which become pandemic all over the world.
1.Covid-19 Social Welfare Countermeasures Headquarters('Social Welfare Headquarters)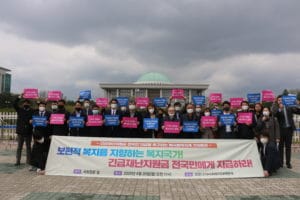 -The Korean Association of Social Workers ("KASW) is working as a secretariat of the Welfare State Realization Coalition and 4 other social welfare organization come along with.Social Welfare Headquarters held the first meeting on March 30th(Mon), and recently on April 20th (Mon), held a press conference on the pan-social welfare industry urging All nation to pay emergency relief funds. It was more meaningful because it was just after the General Election every 4years.
-The press conference was held with the agenda that "Opposition of selective emergency relief funds and pay relief funds to 100% of the nation. At this press conference, about 30 social workers, including the President Oh Seung-Hwan(Korean Association of Social Workers) gathered in front of the National Assembly to aspire that 100% of the emergency relief funds.
-In addition, Social Welfare Headquarters will continue to discover the agenda and work to prevent the Marginalized spot caused by Corona 19.
Community Chest of Korea
-The representative fundraising agency in Korea (similar to Unitedway), raised a total of 100Billion won(Approximately US$80million) (Based on April 30th) to distribute approximately 72Billion won(Approximately US$58million) and has additional distribution plans. The main distribution areas were disinfection and hygiene management and livelihood support for the vulnerable.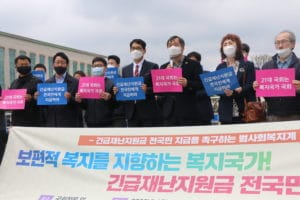 -About 35Billion won(Approximately US$29million) for prevention and hygiene management, about 21Billion won(Approximately US$17million) for livelihood support for vulnerable groups, and 1.1Billion won(Approximately US$9million) for welfare service vacancies. Lastly, about 91 Billion won(Approximately Us$74million)was used to support medical staff, volunteers, and confirmers. The funds raised are distributed to regions with high levels of confirmers and quarantines in the region through coordination with governments and related organizations, and have a strong network with private organizations for rapid on-site support.
Emergency relief funds
-The Central Government: On April 30th, the Supplementary budget approved at the National Assembly and will provide livelihood support to all nation(About21.7million Households). This single project is about 12.2Trillion won in central budget and 2.1Trillion won in local government budget, totaling 14.3Trillion won and is expected to pay 400,000 won for single-person households, 600,000 won for two-person households, 800,000 won for three-person households, and up to 1,000,000 won for four-person households. The payment method is expected to be paid in local currency and local gift certificates to activate the local economy, in addition to the existing credit and check cards. The expiration date is until the end of August, and the unused amount is automatically destroyed. In addition, donations can be made through non-receipt of disaster basic income.
 (Reference US$1=KRW1,230)
-In addition to this, each local government plan to pay additional relief funds their own.
Korea Social Workers Association
-The Korean Association of Social Workers is conducting interest-free and unsecured loans to freelance social workers with (Co-op) Able Social Welfare with joy and Korea Social Welfare Credit Union. This project is great significance for the voluntary funding of social workers for fellow freelance social workers. Currently, about 28Million won(Approximately US$22,000) has funded from social worker colleagues, and a total of 12 freelance Social workers have been loaned to recently.
-It is a loan that is unsecured and interest-free for one year, and the repayment of loans and repayment of funding proceeds in 2021, and the principal will be returned after one year without interest.
Social worker in Korea is the main agent of public-private cooperation in relation to the Corona 19 incident, and above all,become main of solidarity. Once again, it was an opportunity to reconsider the necessity and role of social workers' dedication. We support our social worker colleagues all over the world. Hope that new life will come after this cruel time which no one has ever experienced.
The president, Oh Seung Hwan
Korea Association of Social workers