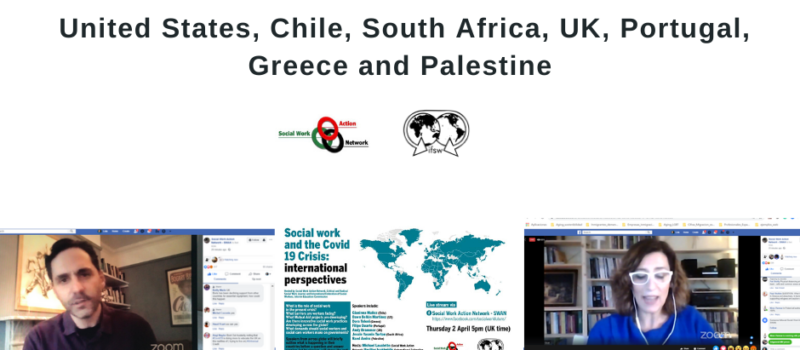 IFSW and the Social Work Action Network organised the first webinar to discuss the role of social workers meeting the challenges of the Covid-19 crisis. Professionals from the United States, Chile, South Africa, UK, Portugal, Greece and Palestine gave a brief outline of what is happening in their countries.
The speakers also responded to the worldwide audience that asked key questions, including: What is the role of social work in the present crisis? What barriers are workers facing? What mutual aid projects are developing? Are there innovative social work practices developing across the globe? What demands should social workers and social care workers make on governments?
A further global webinar in the series will be announced shortly. Meanwhile, the discussion of the first webinar can be followed here (link). Information on the social work role and response can also be found on the IFSW website www.ifsw.org
Vasilios Ioakimidis, co-webinar facilitator from IFSW, said: The discussion was vibrant and articulated both the challenges and opportunities facing social work and societies. It was a truly global event and was attended by colleagues and students from all continents. Michael Lavalette, co-facilitator from SWAN, commented: "We hope this is the start of something big! A regular series of meetings, thinking about social work and it's response to the pandemic, that can help forge a new vibrant social work focus on supporting the vulnerable and oppressed at a time of crisis".