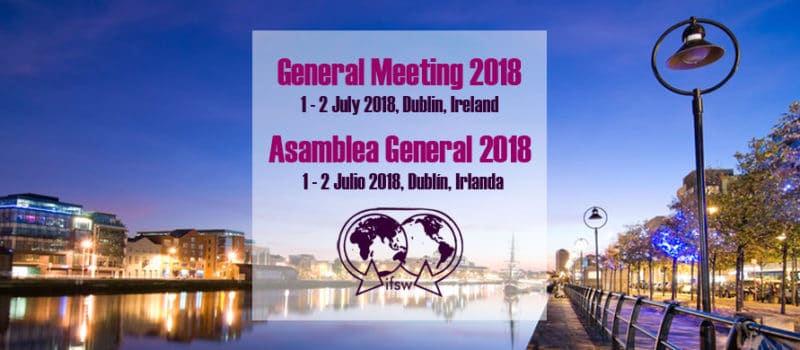 The 2018 General Meeting was held in Dublin, Ireland on the 1st–2nd July.
Minutes of the 2016 General Meeting
This was followed by the SWSD 2018 Social Work, Education and Social Development Conference.
All the reports, proposed policies, motions and voting procedures are listed below.
---
Asamblea General 2018
FITS (IFSW por sus siglas en ingles) se complace en anunciar la Asamblea General de 2018 que se celebrará en Dublín, Irlanda, los dias 1 y 2 de Julio.
La Asamblea será seguida por la Conferencia de Trabajo Social, Educación y Desarrollo Social de la SWSD 2018 a partir del 4 de Julio.
A continuación se enumerarán todos los informes, propuestas de normativas, mociones y votación. Esperamos que los delegados de todas las organizaciones miembros participen, contribuyan y hagan uso de sus derechos de voto. Aquí está una copia de las Reglas de Orden que se usarán durante la Asamblea General.