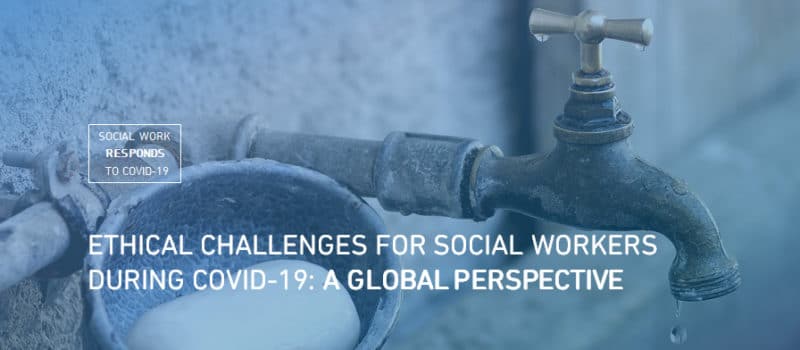 The Social Work Ethics Research Group in partnership with the IFSW Ethics Commission, announces the publication of findings of an international study of the ethical challenges faced by social workers during the Covid-19 pandemic. The quick turn-around research which commenced in April was designed to shed light on the challenges social workers faced and continue to experience under COVID-19.
The report released today draws from 607 survey responses and additional follow-up interviews with participants from 54 countries. The research findings highlight strong commonalities on the challenges that social workers are facing as essential workers in the fight against COVID-19.
IFSW Secretary-General Rory Truell commented, "Social workers throughout the world have taken swift action and played a significant role in reducing the effects of the virus. But there has been a high price to pay for workers at the frontline working in unsafe conditions, with minimal resources and without practice guidance policies. It was critically important that research was also quickly undertaken to highlight the realities of social work practice in this crisis. The findings of this study can now be used as an advocacy tool to support social work practitioners in their essential roles in combating this virus."
Sarah Banks, Professor at Durham University, UK and the lead researcher from the Social Work Ethics Research Group said, "This research has uncovered some of the profound ethical dilemmas faced by social workers as they have continued to practice in pandemic conditions. From the challenges of maintaining privacy and doing fair assessments online to advocating for migrants in transit without food or sanitation, social workers have taken many risks, relying heavily on their own professional discretion. This report gives details of these ethical challenges, alongside recommendations for improving the conditions to support ethical practice in social work"
The IFSW Ethics Commissioner Dawn Hobdy said, "I'd like to congratulate those who developed this survey and express my appreciation for the participants. This survey experience has captured the fact that there are many similarities faced by social workers around the world as well as differences as we try to tackle the various dilemmas related to COVID 19.   We are facing the same storm but perhaps with different boats. The ethical guidance and opportunities for advocacy that will be made possible as a result of this thoughtful survey are invaluable.  I look forward to sharing the results and assisting professionals social workers, around the globe, with implementing these sound recommendations."
Read / Download the Report Here.
The research will also be presented in the IFSW online World Conference. During the live session, participants will have the opportunity to meet the researchers, ask questions, make comments and bring further examples.