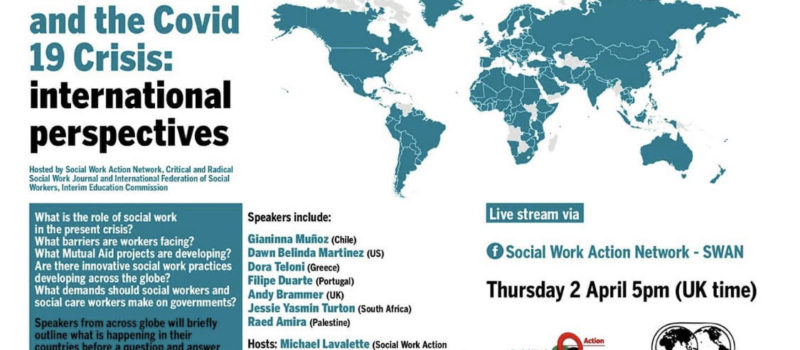 In light of the impact that Covid-19 is having on social work and social services as well as on the most vulnerable populations across the world, IFSW was developed Web Page to inform on how #socialworkers and IFSW members´ organization are working at multiple levels to support communities that are affected or fearful of the Covid 19 Virus and to translate this fear, grief and loss into empowerment and social transformation.
We are complementing this Web Page with an Online Webinar, on Thursday 2 April, 5 pm (UK time) on the topic: 'Social work and the Covid 19 Crisis: international perspectives
Join social workers from around the world as we discuss this worldwide crisis and the social work response.
Hosted by the Social Work Action Network and the International Federation of Social Workers (interim education commission) there will be speakers from Chile, the US, UK, South Africa, Portugal, Greece and Palestine.
After short introductions (outlining the situation in their countries) the speakers will take questions from participants from across the globe.
More information and a live stream weblink to be shared soon.