(ΣΚΛΕ/ HASW)
Greece, Europe
Olga Verikaki
3 rd SEPTEMPER ST.19, OMONOIA SQUARE, ATHENS || 3ης Σεπτεμβρίου 19, 104 32 Αθήνα, 5ος Όροφος.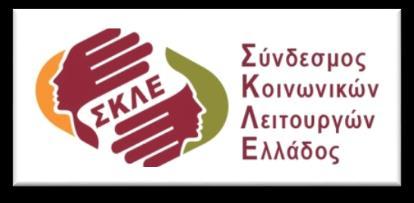 info@skle.gr
http://www.skle.gr
0030 2108827017
108827071
https://www.facebook.com/skle.gr
Name of the President: Mrs. Athanasios Triantafyllia | θανασίου Τριανταφυλλι
Number of members: 4658
Year when the Association was established: 1st time established in 1955 as a private entity and in 2016/2017
HASW became a public entity by law
Year when the Association joined IFSW: 2nd time rejoined 2015
Code_Ethics Hellenic Association of Social Workers
The Association of Social Workers of Greece, was founded in 1955 and is an officially recognized professional-scientific association. He represents the professional and scientific all over Greece the 5000 Social Officers of the country and has Local Departments all over Greece
Its main purposes are:
Contribute to the implementation of the principles and methods of Social Work.
Contribute to improving education in Social Work, safeguarding the Social Worker.
Study of social problems, opinion, intervention to deal with them and cooperation with authorities and competent bodies
Some of HASW main goals are:
The preservation and promotion of work, financial, insurance, union and social interests of its members.
Access to the journal of Social Science review "Social Work", which since 2015, is being published in a digital
form (www.socwork.gr)
The contribution to the implementation of the principles and methods of social work.
The contribution to the improvement of education in social work, confirming the role of social worker in the various fields of action, in cooperation with social work
agencies in order to improve the availability of their services.
The study of social problems, the opinion making, the intervention to address them and the cooperation with the authorities and the competent Bodies.
The public information and the representation of the profession in institutions, ministries, committees.
The involvement of the Association in the configuration and planning of the Social Policy.
Is it social Work a University degree?
How many years do you have to study?
Do you have to register to practice social work?