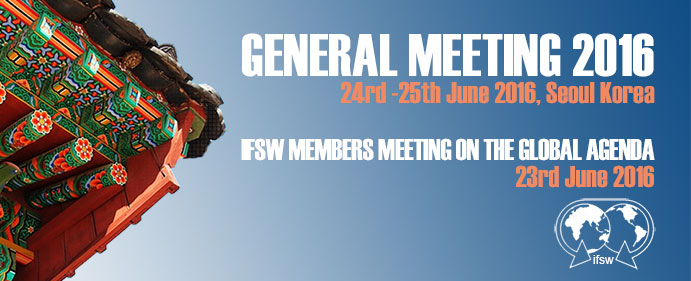 IFSW is pleased to announce the 2016 General Meeting to be held in Seoul Korea on the 24rd -25th June, with an additional IFSW Members Meeting on the Global Agenda on the 23rd June.
On the 23rd June there will IFSW Members meeting on the Global Agenda. Each region has the opportunity to present their regional report for the period 2014 – 2016 and also their plans for the forthcoming theme: Promoting Environmental and Community Sustainability. The event will be run as a workshop and all representatives will be invited to actively participate. See the agenda for the day here.
The General Meeting will be held on the 24th and 25th June and all the reports, proposed policies, motions and voting procedures will be listed below. We hope that delegates from all member organisations participate, contribute and make use of their voting rights. Here is a copy of the Rules of Order that will be used during the General Meeting.
Meeting Venue: for the 23rd June on Global Agenda, and the 24th and 25th June General Meeting:
Address: 5th floor, 332, Teheran-ro, Gangnam-gu, Seoul
The HJ Convention Center is located right in front of the 4th exit of Seolleung Station of the 2nd line. Find it here on Google Maps: https://goo.gl/maps/APkKzMcZhi12
Meeting Times:
General Meeting 24th nd 25th June 9am – 5:30pm
Side Event 23rd June 10am – 5:30pm
---