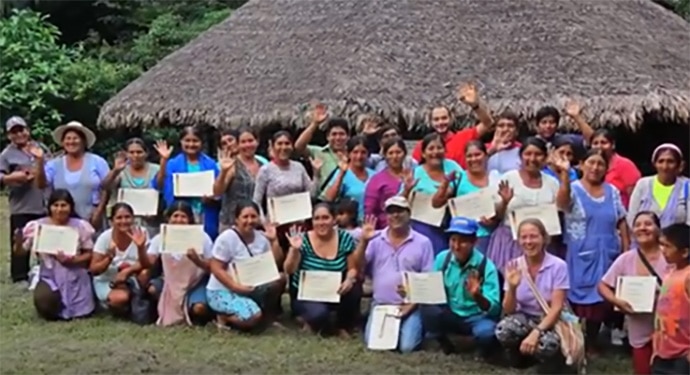 "The Renewable Energy and Empowerment of Quechua Women "*
Buena Vista, Bolivia
The Climate Justice Project:
The IFSW Climate Justice Program's first project to fund through the contributions we raise will be in support of Etta Projects  in Buena Vista, Bolivia. Created in 2003, Etta Projects works with rural communities to establish sustainable access to water, sanitation, and health care. The IFSW Climate Justice Program will be helping them fund "The Renewable Energy and Empowerment of Quechua Women". This specific project will fund the training of the women and construction materials for nine bicycle blenders and nine solar ovens.
In 2017-18, Etta Projects trained 25 rural Quechua women to become medicinal plant promoters in seven villages. These women participated in a six-month course to learn about local medicinal plant identification, preparation of remedies, use, and cultivation. Each of these women now has a medicinal plant garden at her house, from which she prepares poultices, syrups, teas, soaps, shampoos, lotions, and creams to attend to her family and the villagers who seek remedies at her door.
Through the funds they receive from the IFSW Climate Justice Program, these Quechua women community leaders ("Las Bartolinas") will learn how to build bicycle powered blenders and solar ovens to use in their homes to promote the use of medicinal plants and traditional medicine in their communities. The women will expand the project's impact by empowering the women to not only use these renewable energy appliances themselves, but to also be able to train other women in their villages on how to build their own blenders and ovens.
These rural Quechua women live in villages where fuel (wood, gas, and electricity) is scarce. Many of the women live in villages without electricity; the bicycle blenders and solar ovens offer a creative and sustainable alternative. Bolivia is located in a tropical region with plenty of sunshine to power the solar ovens. The bicycle blenders offer a viable solution by providing an inventive way to make the medicinal plant remedies their communities.
The budget for the "Renewable Energy and Empowerment of Quechua Women" project is USD $5,023. This money will train nine women and provide the construction materials for nine bicycle blenders and nine solar ovens. If more money were to be raised, then Etta Projects will be able to train more women and construct more bicycle blenders and solar ovens, which will increase the impact.
The project will be set up into two distinct phases:
Phase One: Training and construction of bicycle blenders with a four day workshop (October 2019)
Phase Two: Training and construction of solar ovens with a four day workshop (July 2020)
After each phase of this project, Etta Projects will follow-up to evaluate the impact of the bicycle blenders and solar ovens implementation into the communities. Their evaluation method is to have each of the nine participants keep a monthly report documenting the use of the blender (date), for what purpose (type of food, medicine, or drink), family consumption (amount), and sales (income generated, product sold). The monthly report will be handed over to the Bartolina's president who works at the market in Buena Vista. She will share these reports with Etta Projects, to evaluate the use of the blenders (for improved family nutrition and income). Each of the women will offer to work with other women in her community to build another blender, to replicate the model.
Etta Projects expects that nine indigenous women from nine villages will learn basic bicycle mechanics and maintenance. The villages range from 30-250 families each, thus the impact may reach up to 500 families. The blenders and ovens allow the women, who are trained as medicinal plant promoters, to prepare nutritious, medicinal food, drinks, and tonics to consume in their homes. The bicycle blenders and solar ovens are sustainable kitchen appliances that will improve their health and quality of life. The women can also sell their blender and oven products in their villages to generate much needed income for their families. This Climate Justice Project promotes renewable energy, women's empowerment, and the use of traditional medicine.
How are social workers involved with this project?
Amanda Martin has over two decades of international development experience.  She holds two master's degrees, one in Social Work and one in Public Health, and a certificate in peace and conflict resolution as a Rotary Peace Fellow. She served as the director of two non-profit organizations. She spent four years in Guatemala as a Peace Corps Volunteer working in rural Mayan villages, served as an English teacher in Southern China, worked for a human rights organization in Colombia for three years as a policy analyst and international delegation coordinator, and created a public health college for adult refugee students from Myanmar, in a refugee camp on the Thailand/Myanmar border. Amanda currently serves as the director of the Community Transformation Center (CTC) with Etta Projects in Buena Vista, Bolivia. The CTC is an experimental space for Bolivian and international visitors to learn, create, build, experiment, and collaborate. The CTC showcases model systems for water, sanitation, hygiene, alternative medicine, and integrated agricultural systems. She is passionate about nature, animals, medicinal plants, and connecting people from all over the world. She organizes and hosts the workshops for the village women. Amanda has also written a chapter, 'Water is Life', in the IFSW edited workbook series, "Social Work Promoting Community and Environmental Sustainability" (see Volume 1, chapter 12).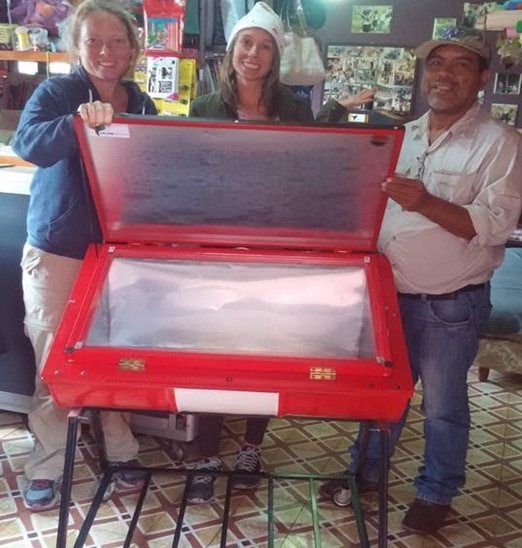 Amanda Martin (left) in Bolivia with colleagues and community members displaying solar oven.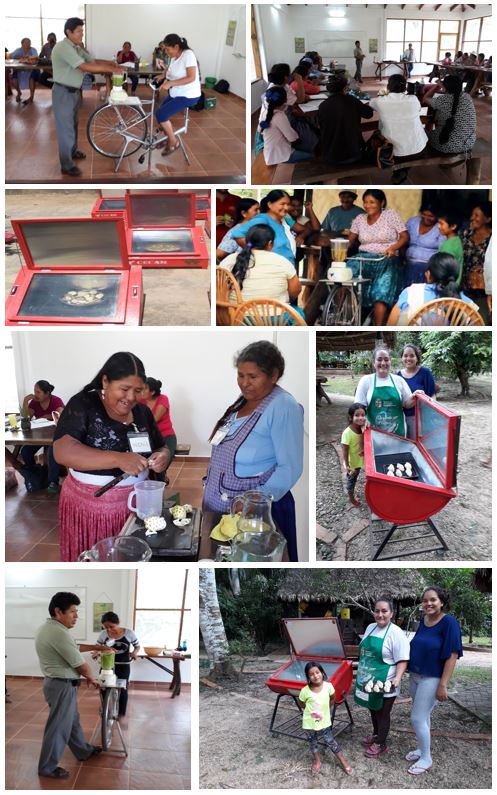 *Local Climate Justice Project Director has verified the people in any photo and video have given their permission to be featured on the IFSW Climate Justice Program website.