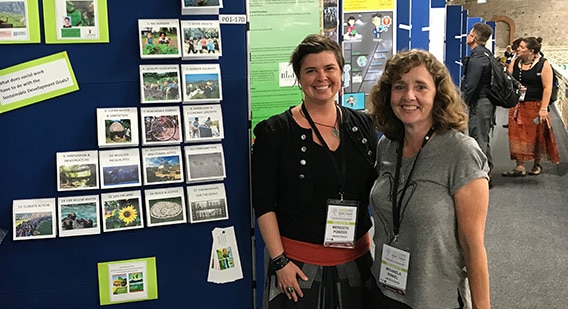 Dr. Meredith Powers (left) with Dr. Michaela Rinkel, co-editors of the IFSW workbook series on "Social Work Promoting Community and Environmental Sustainability", standing in front of their "Reusable Poster" for JWC SWSD in Dublin 2018.
Contributions to this project will be used to help offset the administrative costs associated with the IFSW climate Justice Program. This will allow us to:
Create and manage website for the IFSW Climate Justice Program
Receive applications and vet the Regional Climate Justice Projects
Disperse funds to Regional Climate Justice Projects, oversee integrity of projects and conduct impact assessments to publish with transparency
Increase our educational efforts to have a broader impact for climate justice around the world
Increase our presence with global Climate Justice advocacy dialogues and collaborative networks
Increase our outreach to other organizations to collaborate with the IFSW Climate Justice Program and promote it among their constituents or to advise other organizations on ways they could replicate it
How are social workers involved with this project?
Meredith Powers, PhD, MSW is a social worker, educator, and global advocate for climate justice and degrowth. She is the founder and current Director of the IFSW Climate Justice Program. Together with IFSW staff and volunteers from a Global Advisory Council, comprised of social workers from all IFSW regions and other climate justice experts around the world, they  administer the IFSW Climate Justice Program and seek to expand its endeavors.
Dr. Powers is an assistant professor in the Department of Social Work and a Sustainability Faculty Fellow at the University of North Carolina at Greensboro, USA. Her current research includes the professional socialization of social workers, university-community partnerships for degrowth, climate justice, and issues of climate migration and environmental refugees. She established and administers the growing, online network: 'Green/Eco Social Work Collaborative Network' for social workers around the world who are committed to ecological and climate justice. Among other engagements, Powers was recently invited to speak at the United Nations on climate justice and sustainability as part of the annual Social Work Day event, 2018. She is co-editor on the IFW workbook series "Social Work Promoting Community and Environmental Sustainability" and co-author for the overview of The Third Report on the Global Agenda for Social Work and Social Development. You may reach Dr. Powers at
Impact: Successes and Lessons Learned
Coming soon…